Riser and Second Row of Seats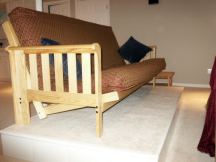 Second Row Riser

Eight and a quarter inches tall, constructed from 2" x 8" dimensional lumber and 3/4" plywood on top.  Joists are 16" O.C. and all cavities are stuffed with insulation.  Very solid and no resonance.

The top is carpeted to match the floor, with self stick white vinyl floor tile with a stone texture on the sides.  The edges are finished with plastic corner molding.

Click picture for larger image.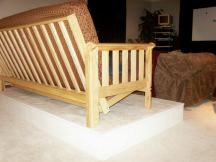 How to fit more people in the theater?

Recent experience with popular new DVD releases where we had more than 20 people over to watch a movie motivated me to find some way to accomodate more people in the theater.

While some new custom theater seats would be very nice, my budget home theater ethic kicked in and I moved a seldom used couch downstairs to do duty as a back row.  As it ended up, this couch became the front row and the current couch moved back a row.  I added two more
bass shakers
to the new couch and checked things out.  I could see fine from the second row, but anyone under 6' tall was going to have problems, so I decided to build a riser to elevate the couch.