What's a tactile transducer?

I've been thinking about adding "tactile" transducers to my home theater ever since I first saw them in a catalog some years ago.  Tactile transducers are supposed to augment the bass and add to viewer immersion by "shaking" the floor or furniture as if the viewer were actually experiencing the action.

I've always thought they were just a gimmick, but after reading on many forums about how wonderful they are, I decided to experiment with them.  Higher end units, like the Buttkicker 2 cost close to $400 each, since I this was mainly an experiment I went with the Aura Bass Shakers which can be had on eBay for $50/pair or less.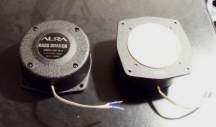 Aura AST-1B-4 Bass Shakers

Capacity: 25 watts RMS, 50 watts peak

Frequency response: 20 - 100 Hz,  Resonant F = 42 Hz

Also available in a 50W "Pro" Version

Installation:

I've mounted both units under the main couch in the theater, a futon.   I screwed them directly to the frame using some 1/2" screws.  The units have a 4 ohm impedance so I decided to connect them in series to present the amplifier with an 8 ohm load. 

I'm powering the shakers with an old 35 watt RMS stereo integrated amplifier I've had in the closet for years.  Only one channel works on it.  For a signal to drive the amp, I connected the subwoofer output on the main receiver to the aux input on the transducer amplifer.  I used the volume control on this amplifier to set the gain for the transducers.  I do not recommend running these transducers full range, as they reproduce frequencies above the rated 100Hz that will distract you and cause your rear to go numb from the buzzing.

Mounting location under the couch, terminations and cables secured to the frame with cable ties.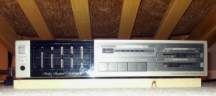 Impressions:

The first movie I watched was U-571, the depth charge scenes of course, and in DTS to boot!

Whoa,  too much, the level was much to high at first, very distracting.

After adjusting the level several times I settled on a level where the effect added to the effect produced by the subwoofers rather than diverting your attention to the bouncing couch. Really a nice effect.

Bottom line:  I think I'll keep 'em.  I will only use them on movies that warrant it (action flicks).  Proper adjustment of level is key.  These models are a not as good at tracking transients or reproducing sub 20Hz bass as I imagine the more expensive models do.  Worth what they cost and more. 

9/02 Update:  Added a second row of seating and two more Bass Shakers, now twice as many people can get the tactile experience!

1/03 Update: 125W to 250 W Subwoofer "plate" amplifiers work great for driving these units.  The amp can be hidden under the furniture also, or mounted in the rack.  These amps are low cost, starting at just over $100.  I have also tried using a speaker selector switch for turning selected shakers off and on.  These units switch too much resistance into the line and keep the shakers from really shaking.  I think you'd need a more sophisticated series/parallel switch to keep losses down in order to properly implement a switching scheme for these shakers.


35 watt/channel amplifer mounted under a chair, with X10 on/off control