Projector Mount and Hush Box

The projector in my home theater is not capable of inverted (ceiling mounted) operation, lacking an image flip option.  I set it up originally on a tall table behind the couch until I figured out how to mount it.  This worked fine except the adjoining space is used as a family room and the table kept getting bumped and the projector would need to be realigned.  Also the projector was right at head height which made the fan noise (36dB) very audible.

Next I tried mounting the projector low, this eliminated the slight keystoning experienced at the higher mounting position, and the cabinet it was mounted in eliminated much of the fan noise.  The only real difficulty is that the minimum throw distance for the 84" wide screen I was using was right in the seating area.  I did not want to move the seats back further so I tried splitting them.  This didn't last to long as you were always sitting off to the side a bit, out of the "sweet spot".

Finally I built the support you see in the picture above.  It is made from 1" oak boards.  The table the projector sits on is adjustable, with a set screw for securing it once final adjustments are made.  The hush box is made from 1/8" acrylic sheeting, secured with clear Liquid Nails.  The removable lid is sealed with ½" foam weather stripping.  The unit is cooled using an Panaflow 80mm fan mounted at the rear of the box, pointed away from the listening area.  The overall effect of the hushbox has reduced the sound level from ~36dB to ~29dB at 1 meter.  The actual listening area is a bit further than that.  You can hear the fans when the room is silent, but not once the movie starts.   It is quieter than the HVAC ducts in the room when the furnace or AC is operating.

The projector itself is a Sony VPL-CS1, an SVGA (800x600) LCD model.  It has beautiful color rendition, but grey blacks.  I originally bought it over a year ago, attracted by the price (~$2K) and good reviews at many of the PC hardware sites.  If I were doing it over today I would purchase an XGA (1024x768) DLP unit.  Many of the projects I have undertaken have been to overcome some of the projector's weaknesses and play to its strengths. 
Update:  I have done it over, and went with a used CRT.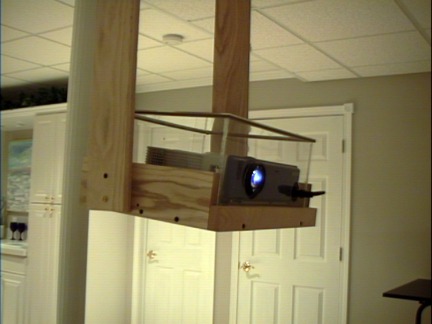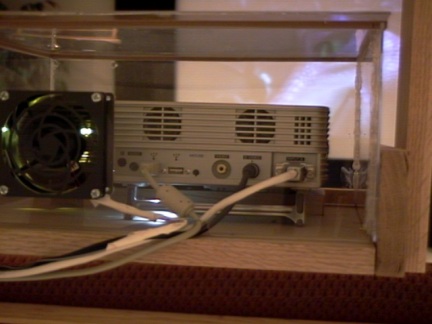 <=VGA (RGBHV), Video Input 1

S-Video, Video Input 2

            |

USB, for remote control from
HTPC
=>