I have constructed a variable masking system for my
screen
.  Since I use an LCD projector the "black" bars above and below a widescreen image are really dark grey.  Using the black masking and side bias lights improves the apparent contrast ratio of the picture.
The masking is constructed from 40"x 60" foam core board with a black velvet covering, the joints required to get the panels long enough to extend past the edges of the 87" wide screen were secured using duct tape (what else ;-)), with some thin arcylic sheet plastic for stiffening.  It is attached to the screen (grey painted 3/4" MDF) using curtain hooks and eyelets mounted on the sides of the screen.  The foam core board is stiffer and more durable than cardboard and not nearly as heavy as wood.

For 2.35:1 images the bottom masking panel is installed.  For 1.85:1 and 1.78:1 images the bottom panel is removed and the image window moved down using Theater Tek DVD player's aspect ratio controller on the HTPC.  2.35:1 images may also be resized to fit in the 1.85:1 (16x9) window using Theater Tek or YXY but I don't do this very often.

For 4:3 images I use a pull down LCD screen, with a 1.2 gain.  The side, top and bottom curtains provide the masking for this image.

I think that the painted MDO screen with its flat slightly grey finish gives a higher contrast image than the screen, but the screen works better with the ambient lights on.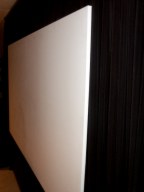 87" x 49" Painted MDO board screen.  Very heavy, supported by hooks so it can be canted to adjust for keystoning and be removed for re-painting.