My HTPC is a custom, purpose built machine, a DIY project.

I love my HTPC!

Great picture quality, multiple uses, flexibility, and you never run out of things to tweak on it.  What is an HTPC?  It is a Home Theater Personal Computer, find out more
here
.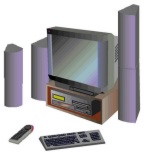 After HTPC:

HTPC generated screen shot, using VGA projector input..

Sharper image with better color.

Before HTPC:

DVD @ 480i, S-Video through projector's scaler.  (Click image

for larger view)

An HTPC is really just a PC with some carefully chosen components.  Like a

good quality video card, sound card that can handle Dolby Digital and DTS outputs, and usually a video input or tuner card.  The cool thing about HTPC's vs scalers for digital projectors like LCD and DLP is that the PC's output can be

matched exactly to the projector's native resolution and bypass the internal

scaler in the projector altogether.  For CRT projectors, HTPC's can process the video signal to eliminate the appearance of scan lines and give that "painted on" look to the image.  I've read about shoot outs between a decent HTPC (cost maybe $1200) and a $20,000 Faroudja scaler where the HTPC was judged to have the superior picture.  It made a huge difference in picture quality for me.  The downside is that they take a fair amount of computer savvy and willingness to tinker to get and keep them performing. There are some commercially available models that can reduce this requirement.

With the introduction of both Windows and Linux based media center optimized operating systems, HTPC's are ready to move front and center in more home theaters. HTPC's can perform as DVR's, media servers, gaming platforms and control systems.

With the rising popularity of Constant Image Height (typically 2.35 or 2.40:1) screens that often require image preprocessing, HTPC's have yet another role to perform.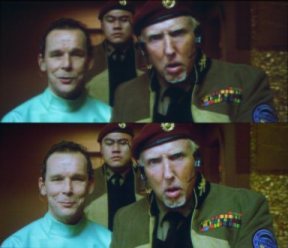 PowerDVD 7.1 Ultra (HD-DVD)

Windows XP Home Edition

FoxCONN Socket AM2 ATX Motherboard

Rackmount ATX Case

AMD Athlon X2 4200+ processor

1 GB 800MHz DDR2 RAM

Seagate 320GB HDD

Western Digital 500GB HDD (Media)

Pioneer 106S slot loading DVD-ROM drive

NVIDIA 7600GT PCIe Video Card

Realtek HD Audio

MyHD
MP100 HDTV Tuner PCI Card
10/100 MB/s Network Adapter

Airboard Wireless Keyboard/Mouse Combo

XBOX 360 HD-DVD Drive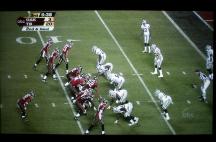 High Def image from HTPC (720p)