Home Theaters are wonderful things, but you can't spend your whole life on the couch.  For those times, why not have your music and video follow you around the house?

When we built our new home, we attempted to do just that.  This page has the details ...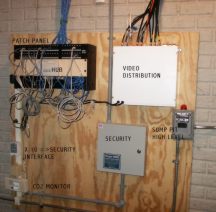 Main system "nerve center", located in a utility room in the basement.  The system has 2000 feet of CAT5 computer cable, 1000' of RG-6U coax cable, 500' of speaker wire, and 500' of security system wire. (Click for larger image)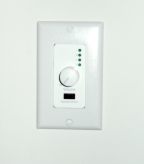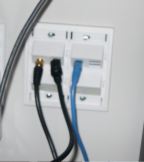 Audio Distribution System controller, wall mounted, with source selection, volume control and remote signal transmission.  Kustom.

Kitchen ceiling showing round BIC speaker mounting.

"Old" Home Theater, now living room TV.  Audio system controller is behind the right hand door.  Boston A100 Speakers, with
new surrounds.
Typical network and media outlet center with cable and LAN connections.  Some have speaker connections for whole house audio distribution.

In wall speaker.  2-way, 6" woofer 1" dome tweeter.  Surprisingly decent bass.  I attribute it to the "infinite" baffle" the wall provides. BIC



The media distribution system consists of three main parts:

- Whole house audio system:  This is a six zone, four input system,  consisting of a master control amplifier and  wall mounted controllers in each zone.  The controllers communicate with the control amplifier over CAT 5 computer cable to provide signal selection, volume control and infrared remote signal repeating.  The speakers are driven directly from the control amplifer, the speaker cables are run independent of the control cables.

- Video distribution system:  Uses an eight output by three input distribution amplifier to provide eight video outlets.  The inputs are used for the incoming cable signal and outputs from stereo A/V to RF modulators attached to a VCR and DVD player.  The modulators allow any TV on the system to watch the VCR or DVD player by tuning to the modulator's channel.

- Structured cabling system:  The homes nervous system.  This system consists of  high grade CAT 5 computer cable that orignates at a patch panel in the utility room and fans out to many locations in the house.  This system supports the home Local Area Network (LAN) and telephone system.

Similar set ups are available from OnQ, Grey Fox and others as prepackaged systems.  I decided to design and install my own system as I felt I could include higher quality components for less and configure them the way I wanted.  Check out the diagram, above, to see the details.



Kustom
KHS-4640.  12 Channel (6 Stereo Zone) amplifier and controller.  The hub of the whole house audio system.  All speaker cables and controller cables home run to here. 
Controller has 4 source inputs plus 4 IR drivers for component control.

"When you run a video source through those RG6 cables, where does the audio feed run? Is it through that sub-system, or does the audio go separately through the Kustom subsystem?"

Yes.  The video system I am using is basically a three input distribution amplifer for broadband (CATV).  My three inputs are 1) Cable TV 2) Channel 1 of a two channel agile modulator with a VHS deck connected 3) Channel 2 of the Modulator with a DVD player connected.  The modulators take a baseband (composite) video signal and a stero audio signal and modulate it to an unused cable channel (I use channels 120 and 121).  Any TV in the system can tune either of these sources by tuning channels 120 or 121, with video and audio through the TV.  I also have the output of the A/V receiver that these same VHS and DVD players are connected to as an input to the Kustom music distribution system,  the VHS is actually connected to its own input.  The DVD player has been added and is not shown on the drawing (always something to update).   This allows for the audio portion of whatever program is being played on the VHS or DVD to be played on the in wall/ceiling speakers while the Video portion is tuned through the TV.

"Also, what are you using for IR control?"

The Kustom (the company is now called NuVo) does the IR repeating.  Each volume/source selector pad has an IR receiver that sends back to the amp/controller which repeats it via emitters attached to the IR receivers on the controlled components.  I then have several programmable remotes set up to control the system from different rooms.  I use the combo IR/RF remotes that can control X10 devices also.

"Using your HTPC as an audio source, can you play multiple audio streams to  different zones in the house?"

Just a single channel.  I only have one sound card, it can be done but I am not currently doing it.  The HTPC is in a different room from the Kustom controller/amp, so I use my network and and application called VNC to control the HTPC from the other PC's in the house.  I would like to convert this to use a pocket PC with wireless.  Maybe someday....